It's "Time for Annihalation"! See what I did there?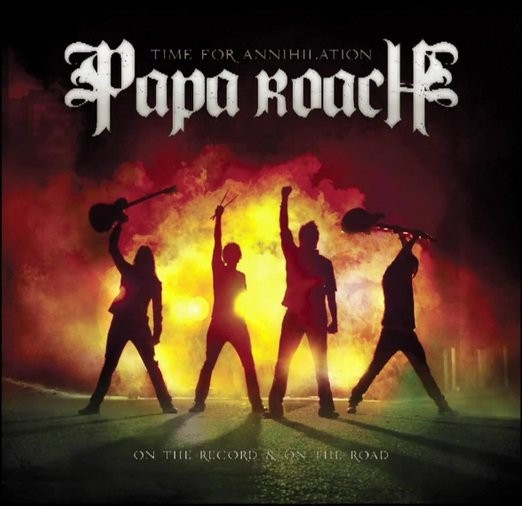 First of all, bassist Tobin Esperance should be quoted, to put this album in context:

"We put out five major label, full-length records, and we were transitioning from a major label, going independent, and we wanted to do something different [...] we'd always talked about doing a live record, and it turned into 'let's add a couple of bonus songs' [...] and now it's half live, half new songs and it's kind of the past and present of Papa Roach, and I think it's a good representation and a good reminder of what this band's about, [...] and it gives you a look at where our sound can go."
That being said, the argument of them being lazy and not making a full album would be nonsense, since they were kind enough to include new songs in what would be a live only album.
First we'll talk about the Live part. The song selection could be heavier, but it is very good overall, since they are all hits. Also, it's great to hear them play, how they matured over the years, even though Jacoby still (and always will - I'm not complaining) does those mentions like "This song comes from the fucking heart" and "I love these guys", when referring to the band. I actually like it. The thing that bugs me in this part is that there is a second guitar, but the band only has one. And after a quick googling I couldn't find out why. So either they had another guy helping out or it was on playback to make the song more full and powerful. I don't really like any of the options, but oh well.
As for the new songs, they are pretty awesome, everyone of them different and each has its own Papa Roach style. No "revolution songs" though, which is kind of disappointing. You have the "betrayal song", the "I Almost Told You That I Love You song", the "me against the world song", the ballad and the "self-struggle song". I could go without the song that heavily hints sex and have a revolution one instead...
I'll start by that one, "One Track Mind". I honestly think it's the most "meh" song of the five, the one you feel like you've heard before and the one with the most boring lyrics. "Burn" is pretty awesome, has a pretty powerful chorus and the verse is sung with hate, you can feel it. It also has that electronic start which will be important for the culmination of this article. "The Enemy" is great actually, for me it's the best "self-struggle" one of them all. Both lyrically and instrumentally; specially the bass. I also think it makes a great transition from the new songs to the live part of the album.
The ballad, "No Matter What" is very good too and all the few flaws that it may have, the acoustic (acoustic of a ballad!) version gets rid of them and it gets really great to hear it as the slow song that it is.
Finally there's "Kick In The Teeth". For me this is the most important song of the album. I talked of how "Burn" uses those electronics, but "Kick In The Teeth" make them a real part of the song, like an extra instrument that is always there. If you think about it, Papa Roach did that in the start, only electronic sound then was different from electronic sound now, so for me what "Kick In The Teeth" is is a modern version of old Papa Roach, mostly since it is "me against the world" style of song. And the song gets even more important since "The Connection", their latest album, uses that premise... But we'll get to that later, won't we?
PS: I'll Kick you In The Teeth if you don't come here?